Android, iPhone, Blackberry, iPad and Windows Mobile have revolutionised the art of communication. Take your business to new heights with a mobile application from Red Flag. We combine top-notch programming and inventive skills with creativity and a true commitment to our customers to deliver outstanding mobile applications.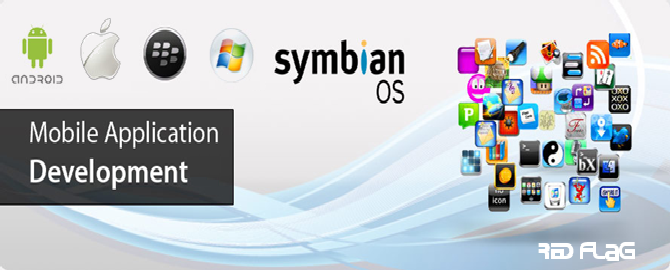 Mobile applications are software programs specifically tailored for mobile devices that can be downloaded by mobile customers from online mobile software distributors such as Google Play or App Store. They make it easier for mobile users to access your business services on-the-go.
Mobile apps are fastly growing as a social marketing tool for businesses and for companies looking to generate revenue. The possibilities are endless with mobile app development and so are the benefits. When choosing Red Flag for your mobile application development needs you can be sure you will receive a high quality application to complement your vision.
For businesses mobile apps give customers access to specific corporate information. For instance they can alert customers about special events, offers, etc.
"Successful businesses tend to make apps natural extensions to their businesses, whether it's selling workout apparel, facilitating airline travel or providing in-home entertainment. Apps allow businesses to leverage nearly infinite resources of information and services by satisfying one highly targeted need at a time. This avoids brand confusion and builds brand strength." – Why Businesses Need Mobile Apps (Forbes)
Keep your customers engaged with your brand as they are on-the-go (you can provide location-based information)
Increase your customers base
Affordable means of business promotion
Drive traffic to your website
Differentiate from your competition
Our mobile app development process starts with a consultation with our customers to assess what they want from a mobile app. The final product is delivered to the client who collects all profits from the mobile app.
If you have an idea for an Android, iPhone, Windows Phone or Symbian app we'd be happy to hear from you and discuss your project concept. Contact us today to tell us a little bit about your project and we'll revert back to you within 24 hours.